White doves have been associated with love and peace for many centuries. The sight of these beautiful, graceful birds rising up to the skies on their journey home fittingly symbolises the journey a newly married couple face together. What better way is there to celebrate a bride and groom starting a new life together than with this simple yet touching image? Our wedding day packages are extremely flexible and can be customised to suit a variety of tastes. Below is some example options that we have found popular in previous clients.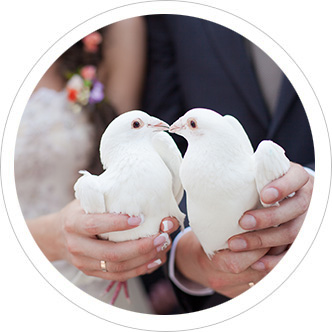 Our wedding day white dove releases can be carried out from a variety of locations such as churches, parks, beaches and lakes just to name a few. Provided the release site poses no threat to our doves, we can hold a white dove release from almost any location to suit you on your special day. While we are happy to work directly with you, for some people a wedding day is a stressful enough event. If you prefer to delegate the duties to someone else once you have selected a release package, we are happy to liaise with the wedding celebrant, wedding planner or other family members so you can relax and enjoy the day.
Teahouse Release
The teahouse is a wedding day favourite. We place two Doves in our elegant teahouse cage before passing them to the Bride and Groom once they have finished signing their Marriage Certificate. A touching way to finish off the ceremony, the two Doves once release fly off together on their journey home; symbolising the new journey in life that the Bride and Groom now share.
Joining of Two Families
To commemorate the joining of two families, this release involves the Bride and Groom both releasing a Dove each, followed by a basket release of four additional Doves. As our Doves come together to fly home, it symbolises how two families have now become one.
In Memory Release
Unfortunately, we can't always have all the special loved ones at our wedding. To pay respect to a special loved one on this day, the Bride and Groom release a single Dove in their honour. This joint release pays homage to the departed spirit and offers families a way to involve them in the ceremony. The Bride and Groom then each release a Dove representing their new journey in life together.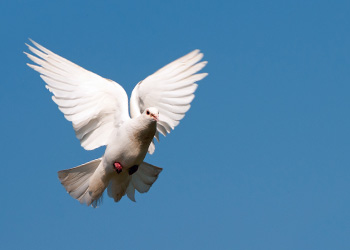 Surprise Gift Basket
As a surprise to the Bride and Groom, two Doves are presented to them in a beautiful gift box after they have signed their Marriage Certificate. In order to incorporate this into the ceremony we suggest advising the Celebrant they can seamlessly blend this into the service without a hiccup.
Not What You're After?
If you'd like something more unique for your special day just ask. We have a large assortment of cages to choose from and will make every effort to accommodate any special wishes.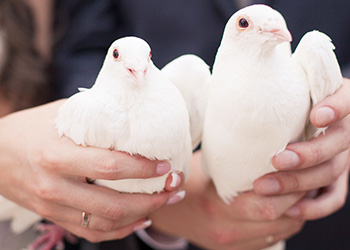 Service Terms
We get to venue approx. 30 minutes prior to start of ceremony.
We liaise with the Celebrant and set up our table, cloth and cage with Doves in appropriate spot, usually near the signing table.
For the safety and well-being of the Doves our staff are the only people able to place the Doves into the Bride and Grooms hands.
We require a non-refundable $50 HOLD THE DATE fee.
Final payment must be made 1 week before the Wedding.
"The red rose whispers of passion, and the white rose breathes of love. The red rose is a falcon, and the white rose is a dove."John Boyle O'Reily – A White Rose