Creating Special Memories for Weddings, Funerals and other special occasions.
We are Perth's premier white dove release providers and aim to provide you with the opportunity to create a truly memorable experience on a variety of occasions and events. With two service outlets we are one of the largest and most experienced providers white dove releases in Perth.
Throughout history the dove has symbolised peace, love, hope, joy, purity, new beginnings and the Holy Spirit to name just a few. The release of white doves has universal appeal across all ages and cultures. Young children delight in the playful sight of watching our doves rise to the sky together and those slightly more old-fashioned can enjoy the peaceful and simplistic nature of this soulful gesture.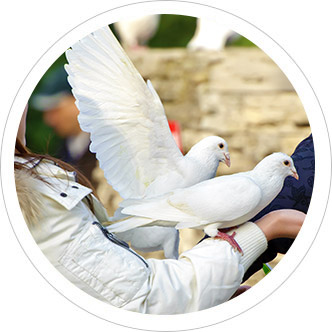 The simultaneous release of a flock of white doves is a truly spectacular sight that can bring a sense of class and dignity to any special occasion, be it large and impressive or small and intimate.
The dove is an amazing creature with a legendary ability to safely return home over enormous distances and treacherous conditions. Our professional attention to providing a heart-felt service and tender treatment of these beloved birds ensures you can enjoy the pleasures of this spectacular, ethical and natural wonder.

"We must combine the toughness of the serpent with the softness of the dove, a tough mind and a tender heart."Martin Luther King