Doves of Love and Bouquet of Doves is a joint venture operation launched by friends Jennifer Mak and Nicole Bouquet. Initially operating independently, Jennifer and Nicole realised the many benefits that can be gained from having two separate flocks located at the opposite ends of Perth. Both ladies use white homing pigeons for their releases which is the norm for virtually everyone in the industry.
Although homing pigeons are able to fly literally hundreds, even thousands of miles, when returning home, shorter flights are considered a much safer option. Considering Perth's extreme summer heat and strong year-round wind, homing pigeons have a lot to deal with. Add a reasonable bird of prey population (such as eagles and hawks) as well as a smaller flying group and you can see why White Dove releases are suited to shorter flights than traditional racing routes.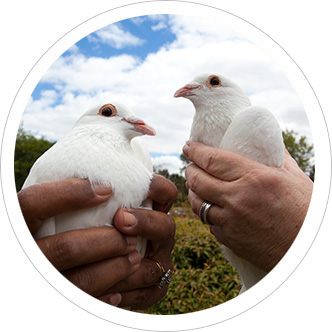 It is for these reasons that Jennifer and Nicole decided to unite together to deliver these beautiful, touching White Dove release services for weddings, funerals, christenings, proposals, community events and other special services. With literally dozens of service options available, Jennifer and Nicole are confident they have a suitable package for even the most specific situations. However, if you can't find exactly what you're after, give them a call and they will do everything in their power to come up with an arrangement to suit.
With a genuine commitment to providing heart-warming, moving experiences, Jennifer and Nicole offer there services as a labour of love to those wanting to make their special event just that little bit more memorable and heart-felt.
"And it seems to me a blasphemy to say that the Holy Spirit is Love. In the Old Testament it is an Eagle: in the New it is a Dove."D.H. Lawrence – British Author